Dental Implants – Salt Lake City, UT
Recover Your Smile, Recover Your Confidence
Missing teeth can cause problems in just about every aspect of someone's life, causing difficulties when it comes to eating, speaking, and even smiling. For those who are ready to permanently put their tooth loss behind them and get a long-lasting, natural-looking solution, Dr. Wood is proud to offer dental implants in Salt Lake City, UT. These prosthetics practically turn back the clock and allow a patient to look and feel like their teeth never went missing in the first place. And, thanks to our periodontal office's expertise and commitment to quality, patients can look forward to a seamless and comfortable process that ends with a gorgeous, healthy smile.
Why Choose Utah Implants and Periodontics for Dental Implants?
Our Specialists Place Dental Implants In-Office
Replace Any Number of Missing Teeth for a Lifetime
Calming Dental Sedation Available for Optimal Comfort
What are Dental Implants?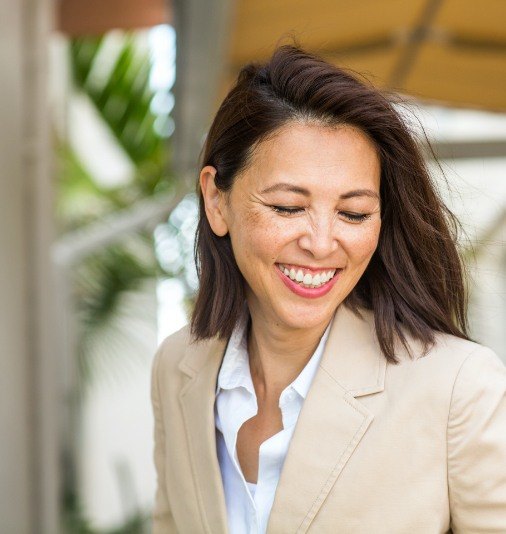 A dental implant is a small titanium post that is placed into the jawbone to mimic the root structure of a tooth. Because titanium is biocompatible, the surrounding bone actually bonds to it just like a real tooth through a process called osseointegration. Once this is complete, a new crown, bridge, or denture can be attached to the implant to bring back the visible portion of the tooth/teeth.
The 4-Step Dental Implant Process
The process of receiving dental implants takes place over multiple months and several visits. Because of this restoration's long-term benefits, you can trust that they are well worth the wait! After all, dental implants have the potential to last a lifetime with the proper care and maintenance. We also handle the implant placement process ourselves! Every person's experience looks a little bit different, but it will include the following steps.
Initial Dental Implant Consultation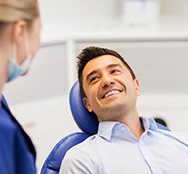 The first step when it comes to getting dental implants is to attend a consultation with us. During this time, we will examine your smile and surrounding facial structures. This will allow us to determine whether or not dental implants are an ideal option for you, as well as where and how the implants should be placed. Some people need to undergo preliminary treatments before they can get dental implants. This includes bone grafting, gum disease treatment, and tooth extractions. Once these treatments are complete, we can move on to planning the rest of your implant treatments. We'd be happy to walk you through the process, timeline, and cost.
Dental Implant Surgery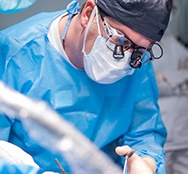 Dental implant placement surgery is relatively straightforward. After we numb your mouth with a local anesthetic, a small incision will be made into the gum tissue to access your jawbone. The implants will then be placed at precise locations and angles. Lastly, your gums will be closed, and protective caps will be placed over the dental implant posts to keep them safe during the healing process.
Dental Implant Osseointegration & Abutment Placement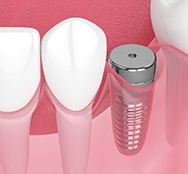 Over the next 3 to 6 months, the fusion process will begin to take place between the implant and jawbone. This process is known as "osseointegration." This allows for your implants to have a sturdy foundation so that your replacement teeth will stay firmly in place. Once this process has been completed, we can place a metal abutment on top of your implant.
Delivery of Dental Implant Restorations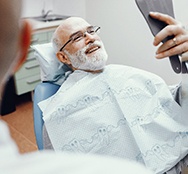 A few weeks after your abutment has been placed, your restoration should be ready to go. You can return to our practice where you will receive your new crown, bridge, or denture, depending on the number of teeth you are replacing. At this point, we will ensure that your bite is comfortable, and we you will be sent on your way to reap the benefits!
Benefits of Dental Implants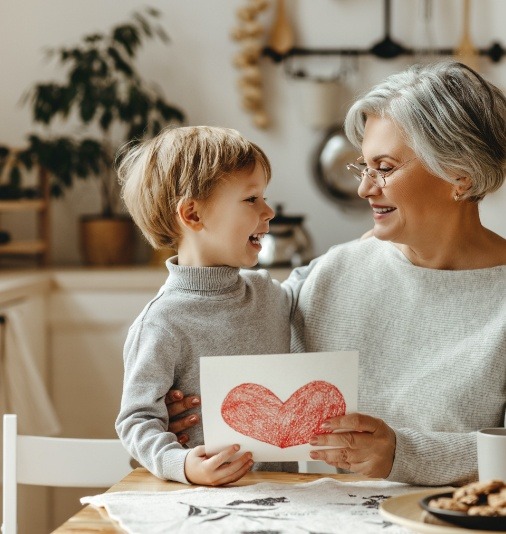 Over half a million dental implants are placed every year, and it's easy to see why that's the case. Not only are they incredibly natural-looking, but they provide a wide range of benefits that traditional solutions (i.e., dentures and dental bridges) simply cannot. This popular method of tooth replacement can drastically improve your confidence, health, and overall quality of life. If you'd like to learn more about their fantastic unique advantages, click on the button below.
Day-to-Day Benefits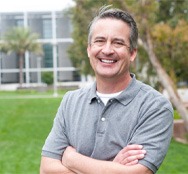 If you're going to replace your missing teeth, it only makes sense that you'd want something that'll allow you to perform everyday tasks with ease. With dental implants, you can eat, speak, and smile just like you would with natural teeth. You can look forward to the following day-to-day benefits:
Boost self-confidence. Traditional bridges and dentures are notorious for slipping out of place, but that is never a concern with dental implants because they are rooted within thick bone just like real teeth. As a result, you can eat and talk with complete confidence!
Easier maintenance. Dental implants don't require a complicated oral hygiene routine. You can simply care for them as you would natural teeth, which means brushing twice a day and flossing daily.
Ability to eat anything. There are almost no dietary restrictions with dental implants thanks to their unmatched strength and durability.
Health Benefits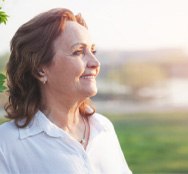 Dental implants can do more than improve your appearance – they offer some incredible health advantages! These include:
Protection for natural teeth. If you have gaps in your smile, your teeth may shift to fill in those empty spaces. Fortunately, dental implants can help keep every member of your grin exactly where it belongs.
Jawbone preservation. Bone loss is a common side effect of tooth loss, but implants are the only replacement that is proven to stop and even reverse this process. This lowers the risk of future tooth loss and helps a patient maintain a more youthful facial shape.
Improved overall health. Studies have discovered a correlation between tooth loss and an increased risk of multiple diseases. Because implants are similar to natural teeth, it's safe to assume they can help lower such risks!
Long-Term Benefits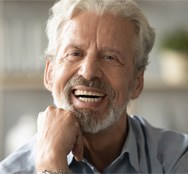 By choosing to restore your smile with dental implants, you can look forward to many long-term benefits:
High success rate. Dental implants have an impressive success rate of about 95% even 20 years after they've been placed!
Long-lasting results. With proper care and maintenance, Dental implants have an impressive 35+ year lifespan.
Maintain a youthful appearance. Since implants stimulate the jawbone, they help prevent the sunken aged look that often comes with tooth loss.
Who Dental Implants Can Help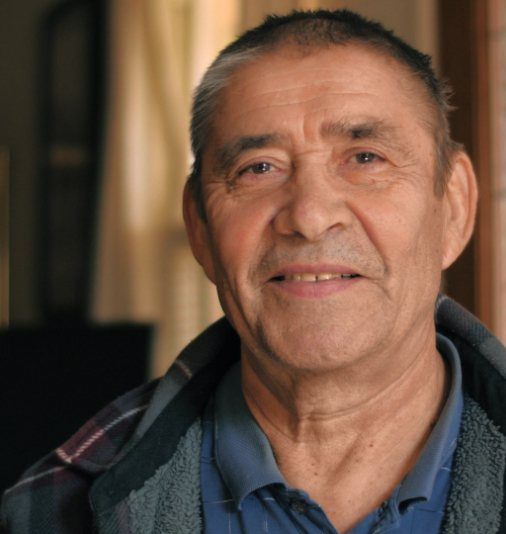 Basically any patient with missing teeth can be a good candidate for dental implants. All that is required is a relatively healthy mouth as well as enough jawbone to support the posts. If either of these is an issue, we can help a patient resolve them. At your consultation, we can discuss which of the following options would best suit your situation:
Missing One Tooth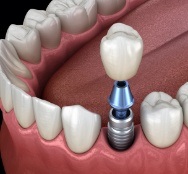 Rather than filing down perfectly healthy teeth to make room for a bridge, we can simply position an implant and top it with a custom crown to close a single gap within the mouth.
Missing Multiple Teeth
Multiple implants can be used to provide a strong foundation for either a partial denture or bridge. Not only are these prosthetics stronger than traditional ones, but they also don't rely on the nearby teeth and gums for support, which makes them much more comfortable.
Missing All of Your Teeth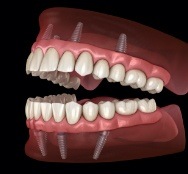 A full denture can be anchored to the jawbone using just 6-8 implants placed along the dental arch. Implant dentures have a much stronger fit than removable ones, so they enable a patient to eat many foods that traditionally were considered "off-limits" for denture wearers (such as tough meats or fibrous vegetables).
All-on-4 Implant Dentures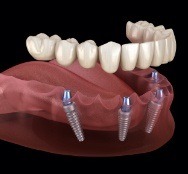 The All-on-4 procedure allows us to replace an entire row of teeth in a single appointment. Just 4 implants are positioned at strategic places in the jaw to maximize a patient's bone density, and then they are immediately topped with a denture. This procedure is not only relatively fast, but it also allows many patients to forgo a bone graft before getting implants.
Understanding the Cost of Dental Implants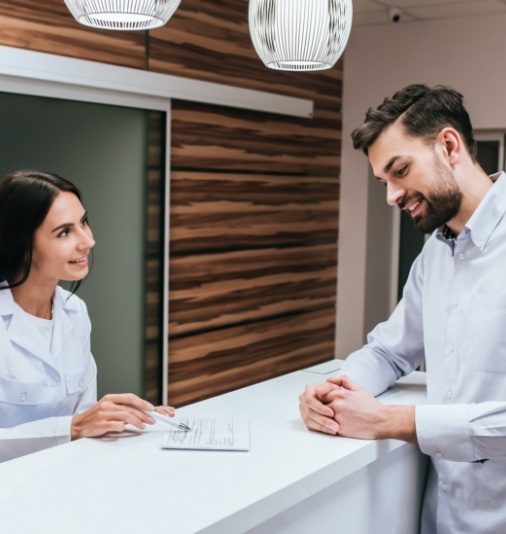 In order to provide the best outcome possible, the dental implant procedure is always personalized based on a patient's specific needs. As such, the cost can vary quite a bit from person to person. The number of implants needed, the type of restoration that will be supported, and the need for preparatory treatments like extractions or bone grafts can all influence the final cost. We'll go over any pricing information at your consultation and also discuss how we can use your insurance and financing to make the treatment affordable.
Dental Implant FAQs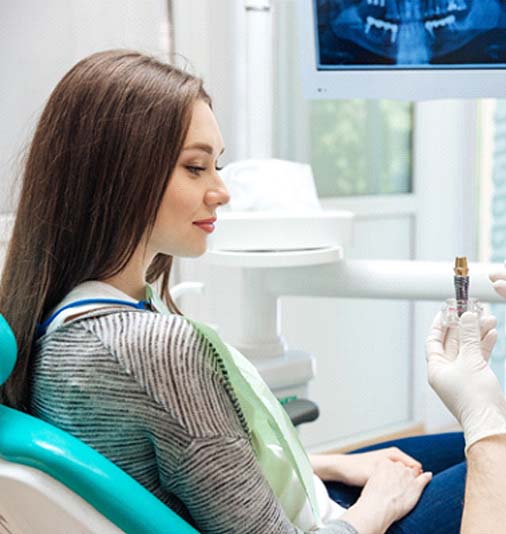 Getting dental implants is a major investment in not only your smile, but also your confidence, health, and overall quality of life. Still, our team at Utah Implants & Periodontics understands that you may have some questions you need answered before beginning the treatment process. That is perfectly normal! Dr. Wood will thoroughly explain your treatment in easy-to-understand terms, but ahead of your visit, it may help to read the answers to a handful of frequently asked questions about dental implants in Salt Lake City.
Does Getting Dental Implants Hurt?
Before the procedure begins, Dr. Wood will make sure that you're 100% comfortable. To that end, he'll numb your mouth and jaw with local anesthetic, and he'll most likely also administer sedation to calm your nerves. Additionally, the jawbone doesn't contain very many nerve endings that can sense pain. Therefore, dental implant placement itself shouldn't hurt. Your mouth and jaw may be sore for a few days afterward, but our team will supply you with post-op guidelines meant to minimize discomfort.
How Long Does It Take to Recover from Dental Implant Surgery?
The exact timeline can vary; it may take longer to recover from All-on-4 surgery than it would if you were getting a single implant, for example. With that being said, most patients are able to resume their normal routines the day after dental implant surgery, particularly if their jobs are mostly sedentary. If your job involves physical activity, you may need to take the next two or three days off. Vigorous exercise could delay healing by diverting blood away from the implant site. Post-op bleeding should slow down and stop after about two days, and swelling should cease after about three to four days. Any soreness and general discomfort following your procedure should be gone within a week at most. If that's not the case, please call your implant dentist in Salt Lake City right away.
Is There Anything I Shouldn't Eat with Dental Implants?
While your implants are integrating with your jawbone, you should avoid eating foods that are difficult to chew. Placing too much pressure directly on the implant may prevent it from properly fusing to the bone. After osseointegration is complete, however, you should feel free to enjoy practically any food you would like. Keep in mind that particularly sticky or chewy foods can dislodge or loosen the restoration on top of your implants, so be careful with such items.
Am I Too Old to Get Dental Implants?
As long as your jawbone has finished developing (which usually occurs by the time a person has reached their mid-twenties), your age shouldn't influence your candidacy for dental implants. With that being said, patients of a certain age may be more likely to have additional health issues that could complicate dental implant treatment, such as gum disease, bone loss in the jaw, or diabetes. Dr. Wood will be sure to review your medical history in detail and take care of any preliminary procedures or precautions he needs to take before placing dental implants.